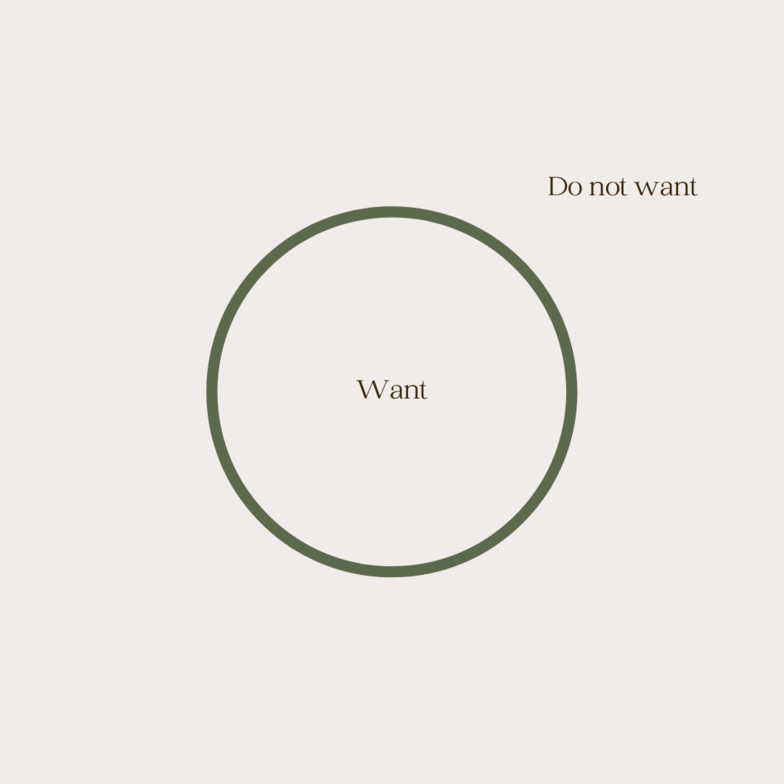 I wanted to share a method on my BirthFIT certification journey that I suddenly have been using for everything in my life.
Let's start off by saying that this title is a little misleading. You don't necessarily need a circle; you could use a line, or just your notes app on your phone. Find your way you like to make lists and give yourself two secontions - for this blog, I will be using the circle set up.
Inside the circle are your preferences or wants and outside are what you do not want. Once you've set it up, go to town! You can write down things like "want a medicated birth", "don't want your in-laws there", "want skin to skin immediately post labor" , or "don't want breastfeeding right away". You could go for more emotions or ideas like "calm", "fear", "happy", or "anxious". We are just working towards giving yourself some clarity on what you want.
We all have our pizza orders, how we like our coffee, or shopping stores we prefer so why not help define what you want your day to look like (can you tell I've been wedding planning). Speaking of wedding planning, this Circle of Preferences does not have to be exclusively for birth. It can be for things like wedding planning, grocery lists, monthly budgeting, 2022 resolutions, starting a business etc. It can totally be a manifesting tool for whatever your life is bringing you this year.
Have fun with it and remember, you have no one judging you. Write 1 word or a whole paragraph. Brainstorm and just enjoy it.
Last thing - it can change whenever you want. You have 9 months to think over your birth. That's a long time to change your mind and then change it again, so do it. You'll never know what you like if you don't explore it.